US: House votes to slow admission of Syrian refugees
Comments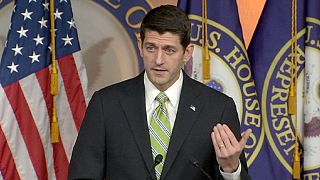 The US House of Representatives has voted through legislation to slow the admission of Syrian refugees.
President Barack Obama has said that he will veto the Republican-backed bill.
The House also voted to impose even higher security scrutiny on refugees, following the attacks in Paris.
"We know that ISIS is trying to come and attack us and other Western nations. It just is common sense that we pause, reevaluate and make sure that we have the proper standards in place to make sure something like what happened in Paris doesn't happen here," said Paul Ryan, House of Representatives Speaker.
Concerns about refugees have been likened to a parent worrying about their child being attacked by a sick dog.
"We must balance safety against just being a humanitarian. For instance, you know, if there's a rabid dog running around your neighbourhood, you're probably not going to assume something good about that dog," said Ben Carson, Republican presidential contender.
Obama says America has always been open to allowing people from war zones to take refuge on its land – and that they become "part of the fabric of American life."