Rugby Union: Jones appointed England's first foreign head coach
Comments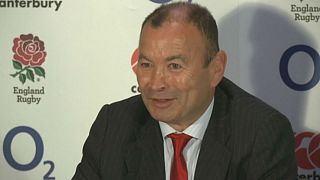 Eddie Jones has been appointed as England's first foreign head coach.
The Australian's first match will be against Scotland in next year's Six Nations.
His mission is to re-establish England as a rugby powerhouse following their disastrous home World Cup campaign that led to Stuart Lancaster stepping down.
At his unveiling to the media Jones said: "We want to beat Scotland, that's our first target. But obviously you've always got short term targets and then you've got your long term target, which is the world cup and what we've got to do is systematically over the four years is make sure that we bring young players in, give them enough experience so that when they get to the world cup in 2019, they've got the required amount of experience to be consistent performers"
The 55-year-old was coach of Japan at this summer's World Cup in England and guided the Brave Blossoms to three victories including the stunning win against South Africa in their pool opener.
Jones, who also guided Australia to the World Cup final in 2003, has agreed a four-year deal with the Rugby Football Union and at his first news conference confirmed there will be no change to the policy of only selecting home-based players.
Only ten days ago Jones was unveiled as coach of South African franchise the Stormers, but the temptation of a quick return to the international game was too great for the Tasmania native.