Greece approves reforms to unlock further bailout cash
Comments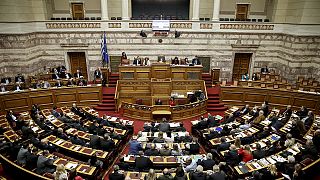 Greece has approved a reform bill, which paves the way for the release of further bailout funds from its international lenders.
But Prime Minister Alexis Tsipras' parliamentary majority shrank after two dissenting lawmakers were expelled.
The bill, outlining regulation on tax arrears and home foreclosures, is set to unlock the two billion euros to pay state arrears and a further 10 billion euros to recapitalise Greece's top four banks.
However the defections of Nikos Nikolopoulos of the right-wing Independent Greeks party and Stathis Panahgoulis of Tsipras' Syriza party further weakened the left-right coalition.
Nikolopoulos voted against the bailout bill, while Panagoulis abstained. Both were expelled from the ruling coalition's parliamentary group, meaning the government can now count on 153 votes in the 300-seat chamber.