Jewish teacher is stabbed in Marseille by ISIL supporters
Comments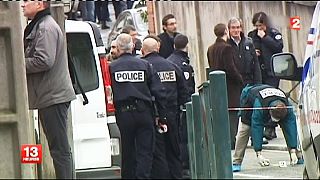 A Jewish teacher in the French city of Marseille was taken to hospital following a knife attack by three youths professing to be ISIL supporters.
The victim was stabbed in the arm and leg but escaped serious injury.
It happened outside the 57-year-old man's home and next to the local synagogue and is the second seemingly anti-Semitic stabbing in Marseille in a matter of weeks.
"The youths who attacked him were on scooters. They showed him Mohamed Merah's photo on their phone. They uttered anti-semitic insults, one of them showed that he was wearing an ISIL T-shirt. They knocked him to the ground and one of them attacked him with a knife," said Michelle Teboul from CRIF French Jewish Institution
Mohamed Merah was a homegrown Islamist militant who killed seven people including three children in a series of attacks in southern France in 2012.
Wednesday's stabbing comes as tensions are high in France which has been under a state of emergency since Friday's attacks in Paris which were claimed by ISIL militants.