Security services under scrutiny after Paris attacks
Comments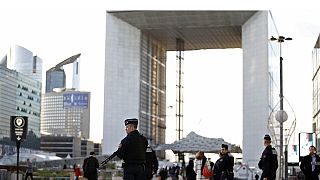 The Paris terror attacks have raised questions about the effectiveness of French security services and whether Belgium has done enough to tackle extremism.
It's not easy because just as the intelligence services are highly intelligent people, unfortunately so are the terrorists.
Euronews spoke to NATO Deputy Assistant Secretary General for Emerging Security Challenges, Dr Jamie Shea.
Euronews, Isabelle Kumar:
"We've spoken before and I have heard you say every time that this kind of intelligence sharing has to be stepped up but it just doesn't seem to be happening."
Jamie Shea:
"It's a constant issue, there's no doubt about that, and Paris again is a spur to improve these type of relationships.
"On the other hand, the fact that, for example, the identities of the perpetrators were so rapidly identified, the fact that the police in Belgium almost the next day were carrying out raids up here in Brussels, does show there is a very high degree of cooperation going on already.
"But you are right, it's never going to be perfect, and we have to continue to see what we can do better."
Euronews, Isabelle Kumar:
"Questions are being asked as to why the plot, the Paris attacks, was not uncovered yet as you mentioned finding the perpetrators seemed relatively easy."
Jamie Shea:
"The key thing, of course, is not just tracking people but trying to recognise that moment when you suddenly see a shift towards radicalisation or when groups of individuals who are being tracked individually come together and start training or plotting or hire a safe house or import explosives or whatever. But it's not easy because just as the intelligence services are highly intelligent people, unfortunately so are the terrorists."