New Zealand legend Lomu dies aged 40
Comments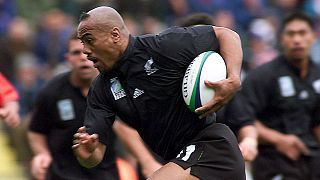 All Blacks legend Jonah Lomu has died aged 40.
Widely regarded as Rugby Union's first superstar, Lomu had suffered from health problems after being diagnosed with a rare kidney disease in 1996.
He died unexpectedly at his home in Auckland having only just arrived back in New Zealand after spending time in the UK for the Rugby World Cup.
Lomu was a force of nature.
At 6ft 5in, 19 stone and capable of running 100m in just over ten seconds, Lomu put the fear in most defensive lines.
He quite literally had a massive impact on his opponents as well on Rugby Union's global community.
Steve Tew – Ceo of New Zealand Rugby said: "His bursting on to the international stage took the game to another level and was probably an important spark for the game, getting the opportunity to go fully professional because what he did at the '95 World Cup certainly turned some heads."
Lomu played in 63 Tests for New Zealand after his debut in '94.
A year later he became a household name following a stunning World Cup debut.
He scored 37 career test tries and shares the all-time world cup try-scoring record of 15.
The only thing capable of stopping the gentle giant was a rare kidney disease.
He underwent a transplant in 2004, but his body rejected it seven years later.
He managed a brief comeback in 2005 and '06 making 10 appearance for Cardiff Blues in Wales but hung up his boots for good soon after.
His death has left his rugby-mad New Zealand and the world in shock
Former All Blacks captain Tana Umaga said: "I'm probably like everyone else. Pretty devastated. Obviously for us and those that knew him well, but also for the family that he has left behind, and for the man himself. You know, our thoughts and our prayers go out to them."
As well as New Zealand, the entire Rugby World is now mourning the death one of its favourite sons and arguably its biggest ever star.