ISIL claims its killed two hostages as it gives more detail on Russian plane bomb
Comments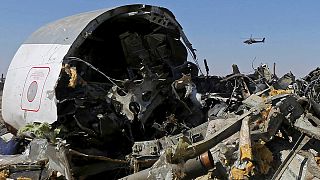 In its propaganda magazine ISIL shows a picture of what it says is a similar bomb to the one it claims to have smuggled on to a Russian plane that exploded over Egypt last month.
The group claims it got the device on board after operatives found a 'security loophole' at Sharm el-Sheikh airport.
In the same publication ISIL also claims to have executed two prisoners.
All 224 people died when the Russian plane fell out of the sky over Sinai. Most of them were tourists.
Russia was at first sceptical about it having been caused by a bomb but earlier this week it accepted it was terrorist act and Vladimir Putin vowed to hunt down those responsible.
Egypt is still maintaining there are no problems with its security procedures and that it has reached no conclusion about what brought the plane down.
ISIL also says it's executed two prisoners, Ole Johan Grimsgard-Ofstad from Oslo, and Fan Jinghui, a business consultant for Beijing.
In a previous edition of the magazine,the group advertised the two hostages as being 'for sale', in effect a macabre ransom demand.