Syringes, plastic tubing and a black Renault Clio: French terror probe progresses
Comments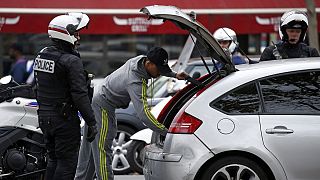 Hunting accomplices to the Paris terror attackers and on the trail of Islamist militant networks, French police want to leave no stone unturned. Their latest wave of 128 raids saw more arrests made.
As the investigation into last Friday's killings progresses, a third car with Belgian license plates believed to have been used in the killings was discovered in the French capital. The black Renault Clio was found in the 18th district, in northern Paris.
Despite homegrown members of the death squad, France's government continues to point to Syrian and Belgian links.
"These attacks were prepared by cells outside our national territory and with individuals unknown to our services," French Interior Minister Bernard Cazeneuve told France Info radio station,
"Even if some were known to us – because there was French involvement – they were not known for their implication in terrorist activities but because they were frequenting radicalised places of worship."
But that is not the full story.
Suicide bomber and former bus driver Samy Amimour, 28, from the Paris suburb of Drancy had been under investigation since 2012 on suspicion of terrorism-related activity over a plan to go to Yemen.
According to a former neighbour who wished to remain anonymous:
"He got fired from his job and because of that he started to frequent mosques more and more. After that he left for Syria."
It is also being reported that two properties in the Paris suburbs of Alfortville and Bobigny were used to prepare for the attacks.
Fugitive Salah Abdeslam, sought across Europe for his suspected involvement in the massacre of 129 people, is said to have reserved two rooms at a hotel in Alfortville.
French magazine Le Point reports that plastic tubes and syringes were found there, putting video of what it says was found there on its website.
#AttentatsParis : des seringues retrouvées dans la chambre d'hôtel de Salah Abdeslam https://t.co/Y1L8l3xfsXpic.twitter.com/8qauCF7lkF

— Le Point (@LePoint) November 17, 2015
The find raises the prospect that the attackers took drugs before committing mass murder.