Thousands in Paris attend memorial service for Friday's terror victims
Comments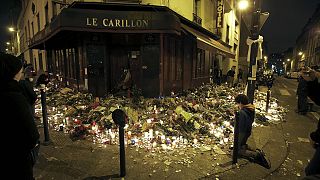 The bell of Notre Dame tolled as around 3.000 people attended a special memorial service for the victims of Friday evening's terror attacks.
Among the anonymous congregation – the Mayor of Paris, Anne Hidalgo, Former President Valéry Giscard d'Estaing, and former Prime Ministers Alain Juppe, and Francois Fillon.
People of all faiths were welcome at the historic Catholic cathedral in Paris which was filled to capacity. Outside those who could not get in used their phones to view the Mass.
One woman explained why she was there:" The act of being here is just a need to come together and reflect on those children, those youths, and also the wounded who are lying somewhere between life and death. And above all it so that we don't give in to hatred and the temptation to reject others."
"I felt a real sense of humanity, while everyone here wasn't a catholic or from the same faith, it seemed to bring everyone together. Which I thought was really respectful and there's a sense of community," said a man from Northern Ireland.
All came in answer to a call by the Archbishop of Paris, Andre Vingt-Trois, as our special correspondent Valerie Gauriat reported:
"A moment of meditation and unity, taking place among tight security . Not everyone could attend the mass. But even those outside Notre Dame cathedral, came in response to a call for tolerance from the archbishop of Paris and to say they will not give in to hatred."
A service at the Cathedral of Notre-Dame in Paris honors the victims of Friday's attacks https://t.co/Quin5DNDQq
https://t.co/kdvdJ9bbgq

— The New York Times (@nytimes) November 15, 2015