Tributes from around the world for Paris victims
Comments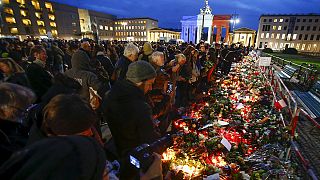 Tributes have poured in from all four corners of the planet in the wake of the Paris attacks.
In Berlin, the rain didn't stop mourners from gathering outside the French embassy near the Brandenburg Gate to leave flowers or to light a candle for the victims and their loved ones.
One Berlin resident said: "We are all human beings, part of one world and we're sad about anything like this that happens anywhere in the world. This was especially sad because it (the attack) was on another level."
In Madrid, the mayor along with city councillors held a five-minute silence outside the city-hall. Flags were flown at half-mast.
Passers-by also joined in to show their support to the people of France.
Madrid was the target of simultaneous Al Qaeda attacks in 2004 that killed 191 people.
Across the continent in Russia, Muscovites expressed their grief outside the French embassy in the capital.
The country has had to deal with regular acts of terrorism since the fall of the Soviet Union.
"Everybody must be feeling grief at the moment, whatever their nationality, whether they are Russian, French or Syrian. We all support France," explained one Moscow resident.
In Stockholm, singer Madonna stopped her concert to pay tribute to those who died in Paris.
The star vowed to continue to perform in the wake of the attacks, claiming doing otherwise would amount to the attackers winning.
Visibly moved, Madonna sang "Like a Prayer" after a moment of silence.