Lebanon arrests terror suspects, including several Syrians
Comments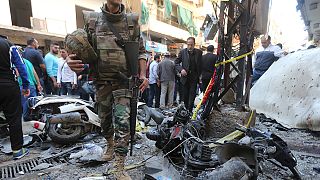 Lebanon's government said on Monday that authorities have detained at least nine people, including several Syrians, who they suspect of involvement in planning attacks or helping extremists enter the country.
The announcement came after Thursday's bombings in a Beirut suburb that killed at least 40 people and wounded more than 230.
Lebanese Interior Minister Nouhad Machnouk said the attackers had initially planned to target the Rasoul al-Aazm hospital, which is run by the Hezbollah militant group – but changed their minds because of tight security.
"The operation was planned to happen at the Rasoul al-Aazam but the security measures around the hospital made them change the target and move to a busy area after observing and determining when rush hour was," Machnouk said.
They were the first attacks in more than a year to target a Hezbollah stronghold inside Lebanon, coming at a time when the group is stepping up its involvement in the Syria's civil war.