French show solidarity by attending memorial services
Comments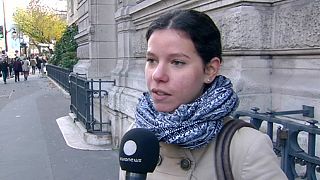 Security surrounding the memorial services was tight after the events of Friday night, but that did not stop thousands of people turning out to join in and pay their respects. Some of them explained to euronews why they decided to attend.
"I'm her because I'm studying at the Sorbonne and there were students from the Sorbonne who were among the victims," said this woman. "I'm French and I love my country and I was very moved by what happened. Being here was, for me, a way of understanding what has happened, and at the same time a way to share the suffering and to try to find some hope in all of this."
This man added:
"I think it's important for us all to gather round and share the values that remain common to all of us in spite of everything. To share this moment, to gather together, to have a joint communion.. I think this is important in order to move forward."
Our correspondent in Paris said it was significant that the French President Francois Hollande chose to be among the students at the Sorbonne, to send a message to a younger generation, a message of determination to fight against terrorism, a message of strength to what some people are already calling 'Generation Bataclan'.
Emotion en #Sorbonne pour la #MinutedeSilence en hommage aux victimes des attentats en présence de fhollande</a> <a href="https://t.co/wM8NuyWwcf">pic.twitter.com/wM8NuyWwcf</a></p>&mdash; Académie de Paris (Academie_Paris) November 16, 2015