Three men in Missouri charged with making threats to shoot people on college campuses
Comments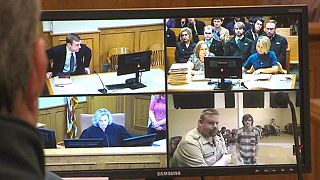 In the United States three men have been charged in Missouri with making threats on social media# to shoot people on college campuses.
Two of the men, who are all aged nineteen, talked about specifically targeting black people.
One of the three, Hunter Park from St Louis, appeared in court on Thursday accused of making threats against the University of Missouri. A court heard how he had showed a deep interest in a recent Oregon school massacre.
Park was denied bail.
The other two men, Tyler Brandenburg, also from St Louis, and Connor Stottlemyre, a student at Northwest Missouri State university, were also charged on Thursday.
One of the campuses concerned, Colombia, has become a focus for protesters after several black students said they were abused there.