Kurdish forces battle ISIL for control of Sinjar
Comments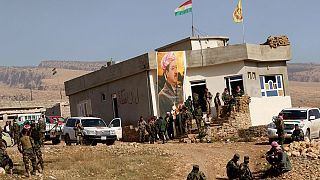 Kurdish peshmerga fighters say they have liberated much of the Iraqi town of Sinjar from the group calling itself Islamic State (ISIL).
Since the operation began on Thursday (October 12), the Kurds backed by US air strikes and volunteers from Iraq's Yazidi minority, have captured more than 150 square kilometers from ISIL.
Sinjar fell last year to the group who promptly murdered and enslaved thousands of members of the Yazidi community.
The Kurdish Regional Government said 7,500peshmerga fighters were closing in to take control of the mountain town and cut off a supply line used by ISIL.
The United States, expects securing Sinjar to take between two and four days, with another week needed to complete to complete clearing operations, according to a US official.
Kurdish commanders say they need to advance slowly to avoid explosives likely planted by ISIL in Sinjar.
The Kurds, who fought Saddam Hussein's security forces for decades, have some of the most experienced fighters in Iraq.