Ireland grab away goal in first Euro playoff against Bosnia-Hezegovina
Comments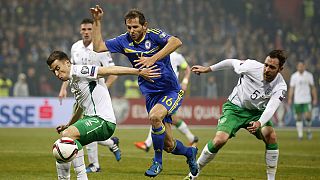 Thick fog draped the pitch of Sarajevo's olympic stadium as Bosnia Herzegovina played the first leg of their Euro 2016 play-off qualifier against Ireland.
The first half was goalless with the hosts playing the better football but Ireland, well organised in defence, appeared able to deal with anything the Bosnians threw at them.
For the fans it became farcical with play barely visible when it passed to the far side of the pitch. The last 20 minutes were all but invisible.
Then two goals came in the last 10 minutes to inject some excitement into the otherwise dour affair. Final score, one-all.