Fed Cup pits Czech and German women in final in Prague
Comments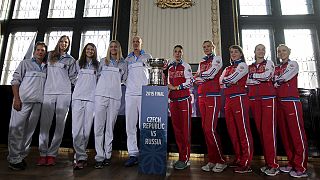 It is Federation Cup Final weekend and the two teams, defending champions the Czech Republic and challengers Russia have met up in Prague.
The draw for for the pairings has immediately thrown the Russian number one, Maria Sharapova, into action on Saturday, where she will face a tough opponent, Karolina Pliskova, a surprise last-minute choice by the Czech women's team.
"I kind of expected to be playing her considering her results. She has a big game, a big serve, big groundstrokes, that's something to look for in her game. But yes I think being the more aggressive one and taking the ball early will be extremely important," said Sharapova.
However Saturday's opening match is between world number six Petra Kvitova and Russia's Anastasya Pavlyuchenkova, so by the time Sharapova walks on court she will either have a mountain to climb or be sitting pretty. Kvitova will start as the hot favourite.