Beirut: is Syria's war spreading?
Comments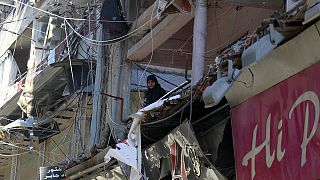 A day of mourning is underway across Lebanon, after one of the worst attacks on civilians since the end of the country's civil war.
Lebanon mourns 43 killed in Beirut double bomb attack https://t.co/x6bKPt4DOapic.twitter.com/2zcxYOGEon

— Agence France-Presse (@AFP) November 13, 2015
At least 43 people died on Thursday when bombers from the self-identified Islamic State targeted a busy street in a southern suburb of Beirut.
ISIS claims responsibility for double suicide bombing in mostly Shiite area of Beirut. https://t.co/y056374gLMpic.twitter.com/cGQdSfFKQA

— New York Times World (@nytimesworld) November 12, 2015
Investigators are combing the debris for evidence.
Important to note that while #Beirut attack hit area where Hezbollah popular, these attacks overwhelming kill civilians. #Beirutbombing

— Sara Hussein (@sarahussein) November 12, 2015
emergency meeting
Lebanon PM holds emergency meeting as nation mourns bomb victims: https://t.co/2iXfZpLjhRpic.twitter.com/FAHXzDPUZR

— Reuters Top News (@Reuters) November 13, 2015
This is a Hezbollah neighbourhood. Hussein al-Khalil, a spokesman for the armed group's leader, Hassan Nasrallah*, says the fight against terrorism will continue.
#Hezbollah chief Nasrallah's advisor Hajj Hussein Khalil has arrived to scene of blasts: Al-Jadeed https://t.co/Bd5VskUFDC#Beirut

—

NOW

English (@NOW_eng) November 12, 2015
"What happened here confirms that we are on the right path. This battle against terrorism will continue. This is not a short battle but a long war between the people of Lebanon and the forces of terrorism."
Islamic State claims responsibility in deadly Beirut blasts: https://t.co/f4OWYAjN0Ppic.twitter.com/KVxRjNse3W

— Reuters Top News (@Reuters) November 12, 2015
Iran-backed Hezbollah supports President Bashar al-Assad in his fight against IS in Syria.
The Lebanese government has held an emergency meeting, as analysts repeat their concerns that Syria's civil war is becoming a regional conflict.
International condemnation
The UN, US and France have condemned Thursday's attack.
#UNSG Ban Ki-moon condemns attack in Beirut; extends condolences to victims families; people and Govt of #Lebanonhttps://t.co/2bDYULR9CT

— UN Spokesperson (@UN_Spokesperson) November 12, 2015
Hezbollah's political opponents in Lebanon have also condemned the atrocity. Sunni politician Saad al-Hariri, who leads the Future Movement, described the perpetrators as "cowardly and unjustified."
Hariri condemns the terrorist attacks in Burj al-Barajneh

Former Prime Minister Saad Hariri condemned in his… https://t.co/o1hCSgzMc9

— Mohamed Fawaz (@MohamedmFawaz) November 12, 2015