Beata Szydlo confirmed as Poland's new prime minister
Comments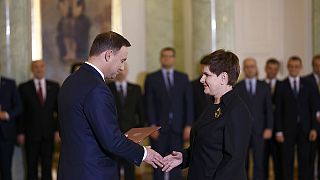 Poland's new prime minister has been officially confirmed as Beata Szydlo from the right-wing Law and Justice party.
In last month's election the eurosceptic PiS – as the party is known – became the first to win an outright majority in parliament since the fall of communism in 1989.
As is the tradition the president Andrzej Duda kissed her on the hand and cheeks three times.
"I do understand we are assuming an immense responsibility but at the same time I strongly believe that all ministers in my government know that the well-being of Polish citizens and the Polish state must always stand above all. We will do everything to implement our plan of reforms and not to disappoint Polish citizens," she said.
As an MP the coalminers daughter defended conservative positions on issues such as abortion and in-vitro fertilisation.
But many believe the real power behind the the throne is the PiS chief Jaroslaw Kaczyinski.