Maradona says he is fighting FIFA corruption
Comments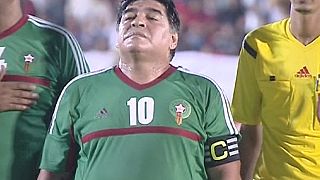 Former World Cup champion, Diego Maradona has made his feelings known once again about the recent scandals to rock world football's governing body, FIFA during a recent trip to Morocco for a gala match. In the past few months he has been very critical of the the organisation's leaders.
"I've been saying it for a very long time – I'm fighting against corruption in FIFA, which Sepp Blatter and Michel Platini are involved in," explained Maradona. "I hope to get into FIFA and give it a good clean and get rid of the those who are corrupt. If everybody who is in FIFA today really wants the best for the game they'll stand with us but if not, they need to go. FIFA must be transparent."
Despite being out of shape, the Argentinian footballer still showed off the talent, which led to him being named FIFA Player of the twentieth century alongside Brazilian great Pele, by finding the back of the net in the gala game held in the Moroccan city of Laâyoune.