'Jihadist network' dismantled in Europe-wide anti-terror crackdown
Comments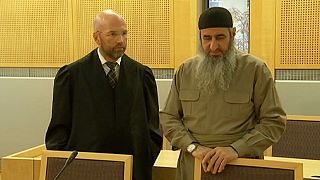 At least 15 people suspected of terrorism offences were arrested across Europe on Thursday.
The crackdown in countries including Italy, Britain and Norway is focussed on what is described as a 'jihadist network' allegedly plotting attacks in northern Europe and the Middle East.
Italian authorities said militants planned to strike Norwegian and British diplomats in the Middle East and politicians in Norway.
The early-morning raids targeted the Rawti Shax group, which police said was a Kurdish Sunni Muslim group dedicated to overthrowing the government of Iraq's Kurdistan region and replacing it with rule by Sharia (Islamic law).
A total of 17 arrest warrants were issued, almost all for Iraqi Kurds, and 15 suspects were picked up immediately.
One of those wanted was believed to be in Iraq, while it was not yet clear whether another suspect had been found in Switzerland.
All of them face international terrorism charges, Italy's Carabinieri police said in a statement.
Among those detained was Mullah Krekar, the one-time leader of the Ansar al-Islam militant group.
Four men arrested over fears ISIS-supporting terror cell is plotting kidnap of diplomats https://t.co/SNtAOmIHg0

— Daily Mail U.K. (@DailyMailUK) November 12, 2015
He was served the arrest warrant in a prison in Norway where he was already serving an 18-month term for making death threats against a Kurdish man and encouraging others to commit criminal acts in a TV interview.
The Italian Ansa news agency quotes investigative sources as saying the network was run by Mullah Krekar from behind bars.
Italy's national Carabinieri police led the investigation, with security forces in Italy, Britain, Norway, Finland, Germany and Switzerland taking part in Thursday's swoop.
"An examination of the web has identified people engaging in proselytising activities for the creation of armed structures, lauding the holy war," said Rome's Deputy Prosecutor Giancarlo Capaldo.
Italian investigators say Rawti Shax, which means 'The New Course', was rooted in Europe, with cells communicating via the Internet and providing logistical and financial support to send fighters to Syria and Iraq.
Their hope was that these fighters would be trained for future conflict in Iraq's Kurdistan.
Krekar's lawyer, Brynjar Meling, told broadcaster TV2 on Thursday that his client had been in jail for all but one month since early 2012, adding that he did not have Internet access.
Separately Turkish police targeting the so-called Islamic State group have detained at least 11 suspects in Istanbul as part of a series of ongoing anti-terror operations.
Infographics: One-third of #ISIL suspects jailed in #Turkey are foreigners https://t.co/lbl4WUScVrpic.twitter.com/Z32THYoOBn

— Hurriyet Daily News (@HDNER) November 12, 2015