EU and African heads seek solutions to the migrant crisis as Sweden tightens borders
Comments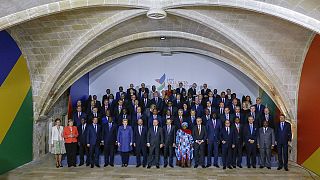 EU and African leaders enter the second day of a summit to discuss the migrant crisis in the Maltese capital Valletta.
The European plan is to donate billions of euros to ease the security and economic pressures that force people to seek sanctuary in richer nations.
Nkosazana Dlamini-Zuma the head of the African Union blames elements within Europe for the crisis: "The problem we are facing today is in part because Europe, some countries in Europe, have taken a fortress approach. There is no part of the world that can be a fortress. We should be open to legal migration."
As talks continue Sweden and Slovenia became the latest EU nations to tighten borders.

The Latest: Sweden says border control will prevent people from staying in country illegally https://t.co/GHQV1PU4Qgpic.twitter.com/o5V5nc2N9O

— The Sweden News (@TheSwedenNews) November 11, 2015
Anders Ygeman
the Swedish interior minister explained: "The idea is not to limit the number of asylum seekers, but to get better control over the flow of asylum seekers arriving in Sweden."
Close to 150,000 Africans have made the
have made the perilous journey across the Mediterranean this year

A new chapter of the migrant crisis is building on Africa's Mediterranean coast https://t.co/tBwuT9HVwWpic.twitter.com/UVqzaAGweQ

— Gerard Baker (@gerardtbaker) November 3, 2015
James Franey is in Valletta:"With little progress made on returning failed asylum seekers to Africa, the EU is still struggling for a coherent strategy to this migration crisis. Indeed as the bloc seeks help from African nations as well as Turkey, it seems the only strategy that Europe has, is to make it somebody elses' problem."
SAD: Another 19 Bodies Of Dead African Migrants Recovered Off Shores Of Greece -… https://t.co/MzvLYEENu8#Naijapalspic.twitter.com/nrIvnhcuHH

— Naijapals Forum (@Naijapals) October 30, 2015