Two Brazilian dams burst devastating nearby village
Comments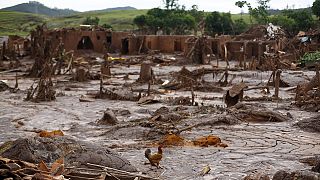 One of Brazil's worst mining disasters in recent memory has left 25 people missing. Mud and waste water from burst dams at a Brazil iron ore mine, swept down a valley devastating a nearby village.
Exhausted firefighters waded through waist-deep mud as thick as wet concrete among the tangled remains of Bento Rodrigues, village where once 600 people lived.
The disaster has also raised health and environmental concerns as cities more than 300 km downstream were forced to cut off drinking water .
State health officials are checking the toxicity of the waters and warned residents who came in contact with the mud to throw out their clothing. Biologists warn that the environmental impact from the mining waste water may be permanent, devastating local fisheries and farms.
Two #Dams Collapse at Brazilian Mine, Village Engulfed in 'Thick, Red Toxic Mud' https://t.co/iYGQZXXBca#BrazilMAB_Brasil</a></p>&mdash; Grassroots Intl (GrassrootsIntl) November 10, 2015