Portugal PM Passos Coelho defeated by anti-austerity MPs
Comments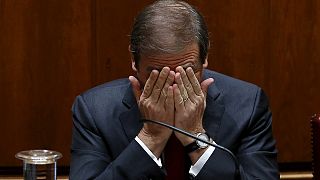 Anti-austerity lawmakers have ousted Portugal's centre-right government by rejecting its policy proposals less than two weeks after it was sworn in for a second term.
The three left-wing parties agreed to join forces to get rid of the centre-right paving the way for a new administration to end years of austerity.
"We see power as [public] service," said prime minister Passos Coelho. "So it must be a deception of the opposition, who believe in the false idea that it will be hard for us to leave government. It is not everyday that one leaves a government holding the vote of the electorate."
Portugal's next prime minister is likely to be Socialist Party leader Antonio Costa, who engineered the move to team up with the Communist and Left Bloc parties.
"The fact that for the first time a government may be formed by parliamentary agreement between PS [Socialist Party], the Left Bloc, PCP [Communist Party] and PEV [The Greens] is indeed something new," said Antonio Costa, leader of the
Socialist Party. "Something that straightens our democracy and parliamentary pluralism, and government alternatives."
Portugal's president could ask the government to play a caretaker role until fresh elections, or invite Costa to form the next government.