Portugal's centre-right coalition government ousted
Comments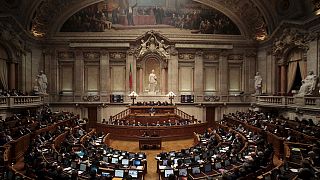 Portugal's centre-right coalition government has fallen less than two weeks after it was sworn in.
A group of left-wing parties rejected Passos Coelho's centre-right minority government's path of reforms and meeting eurozone commitments.
A motion of rejection put forward by the leftist parties was approved by 123 votes to 107.
Portugal's next government looks likely to be led by the Socialist Party with Antonio Costa as prime minister, supported by the Communist and Left Bloc parties.
The alliance has promised to alleviate austerity, though critics fear a return to borrow-and-spend policies
Outside the parliament, demonstrators at a left-wing rally shouted "Victory!" as the news of the vote spread.
#Portugal#Update: Govt falls in parliament vote. Socialist "motion of rejection" to govt approved by 123-107.

— José Miguel Sardo (@jmsardo) November 10, 2015