Netanyahu urges US to keep pressure on Iran
Comments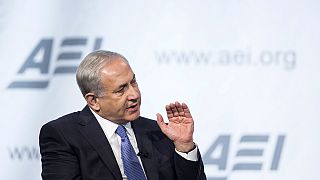 Strongly opposed to the nuclear accord between world powers and the Iranians, Israeli Prime Minister Benjamin Netanyahu appears to have accepted that it is a done deal and that Israel and the US need to move on.
Addressing the conservative American Enterprise Institute think tank, he stressed that the focus should be on ensuring the deal was implemented and keeping Iran under pressure. He offered this advice to Washington.
"Three things, keep their feet to the fire. Support your allies first. And third, bring down that terror network. I think that is what I can say about Iran."
On his visit to the US, Netanyahu and President Obama have made an effort to move on from their strained ties over Middle East diplomacy and Iran.
Obama and Netanyahu seek to move past "strong disagreement" over the Iran nuclear deal. https://t.co/SccwY2zhl8pic.twitter.com/hzBcm4Noky

— NYT Politics (@nytpolitics) November 9, 2015
The Israeli leader is perhaps already looking ahead to the next occupant of the White House.