Modigliani nude fetches record $170 million at auction
Comments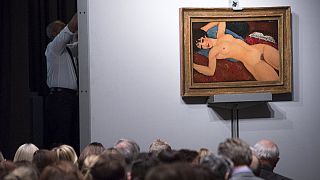 A nude painting by Amedeo Modigliani has just fetched a record price of $170.4 million for the Italian artist – and achieved the second highest price ever for a work of art at auction.
The final price for the 1917-18 portrait "Nu couché" (Reclining Nude) was second only to Picasso's "Les femmes d'Alger" (Women of Algiers) which sold for $179 million at Christie's in May.
The lucky new owner of the Modigliani masterpiece was an unnamed Chinese buyer, bidding by telephone at the auction in New York.
"It is an extraordinary painting. It has not been on the market for 100 years," said auctioneer and Christie's Global President Jussi Pylkkanen.
"It was painted in 1917 during the first World War and everybody, all the critics, all those people that really understand 20th century painting universally felt that this was the artist's greatest work."
A new record was also set for an auction sale of work by Roy Lichtenstein, the pop artist best known for his vibrant, cartoon-style works. His 1964 painting "Nurse" fetched $95.4 million, within the $80 million to $100 million estimate.
Roy Lichtenstein's Nurse just sold for $95,365,000, a #worldauctionrecord for the artist. pic.twitter.com/IPS7C9L4up

— Christie's (@ChristiesInc) November 10, 2015
Another artist record was broken for a Gauguin sculpture, when "Thérèse" sold for just under $31 million, beating the $25 million estimate.
Paul Gauguin's Thérèse sells for $30,965,000 a #worldauctionrecord for a sculpture by the artist. pic.twitter.com/NuEf8SG0Ex

— Christie's (@ChristiesInc) November 10, 2015