Former EU commissioner Ciolos appointed Romanian prime minister
Comments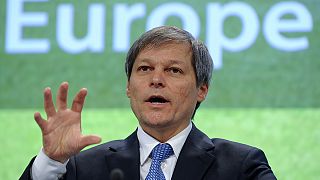 Romanian President Klaus Iohannis has appointed former EU agriculture commissioner Dacian Ciolos as prime minister.

#Romania ex-EU commissioner for Agiculture Dacian Ciolos new Prime minister in middle of political&social turmoil pic.twitter.com/AME0WDs5HA

— Stéphane Siohan (@stefsiohan) November 10, 2015
It comes following the resignation of Victor Ponta and his cabinet after a deadly nightclub blaze sparked anti-government protests.

Romanian government resigns following protests https://t.co/rO4dyBU6gWpic.twitter.com/6zL0ZlBDFu

— TIME.com (@TIME) November 4, 2015
He will lead a technocrat administration for one year ahead of elections in December 2016:
"It is a long mandate because we won't just limit ourselves to administrative decisions. Still it is too short to deliver the reforms that our society is expecting. '' he said.
The nightclub fire that left 48 people dead caused outrage and highlighted a lax and corrupt political class.

Photos show a the deadly fire at a Bucharest nightclub started. https://t.co/ELQ6M9Q2CEpic.twitter.com/bfaEOt5U4s

— 7News Yahoo7 (@Y7News) November 1, 2015
The club's three owners have been arrested, the town hall has been raided and the police chief quizzed over how the venue was allowed to open with only one exit and fire regulations ignored.