Gunman kills five including US staff at police training centre in Jordan
Comments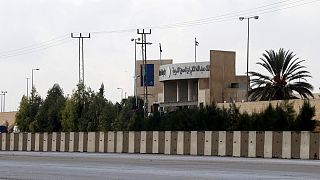 A gunman has killed five people at a police training facility in Jordan before being shot dead by security forces.
The country's embassy in Washington says those killed were two American instructors, a South African, and two Jordanians.
According to a security source the gunman was a senior co-trainer with the rank of captain.
His motive is not known.
Four others injured in the attack at the US-funded centre near the capital Amman were visited by King Abdullah.
The US security contractor DynCorp International confirmed its personnel were fired on.
Jordan is part of the US-led coalition battling against insurgents from the so-called Islamic State in neighbouring Iraq and Syria.
Fighter jets take off from Jordanian air bases to hit ISIL positions. King Abdullah believes strongly that the threat from the jihadists must be countered.
But the kingdom's role has caused disquiet among some Jordanians who fear instability at their borders and Islamist attacks in their country.