Russia admits 'act of terror' possibly downed passenger jet in Egypt
Comments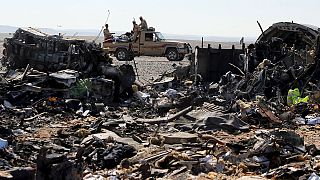 Russian Prime Minister Dmitry Medvedev has acknowledged for the first time that an act of terror may have been behind the downing of a passenger jet in Egypt's Sinai peninsula, killing all 224 people.
It's the nearest the Russian government has come to saying a bomb may have caused the crash.
Both Russia and Egypt have yet formally to announce the cause of the disaster and both countries have dismissed as premature US and British assessments last week that a bomb was the likely cause.
However Russian communications intercepted by US intelligence agencies reportedly show that Russia firmly believes a bomb brought down the jet, they just haven't admitted it publically.
A US government source also said on Monday (Nov 9) that neither Russia nor Egypt has accepted an offer from the FBI to assist them in investigating the crash.
The leading theory is that an airport worker at the Red Sea resort of Sharm el-Sheikh may have planted the suspected bomb aboard the Russian plane.
Despite Moscow's reticence the Russians have stopped all flights to Egypt and over the weekend mounted an airlift to repatriate thousands of their nationals who had been holidaying in Sharm el-Sheikh – the airport where the doomed plane took off.
Most of those on board had been Russian and Islamist extremists linked to ISIL say they brought the plane down in retaliation for Russia's military intervention in Syria.