Sharm el-Sheikh to foreign tourists: 'please don't go'
Comments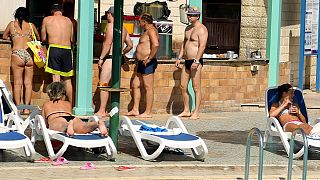 The Russian and British operations to airlift their citizens out of Sharm el-Sheikh are staggering for the Egyptian government.
Pouring cold water on foreign reports that a bomb caused last week's airliner disaster, Cairo insists that any such conclusion is premature.
Sharm el-Sheikh, fondly dubbed one of Egyptian tourism's crown jewels, is the country's number one destination for Russians and Britons.
Many livelihoods depend on them. Russians make up around one third of all tourists to Egypt.
One Russian holiday-maker told euronews what her stay so far had been like: "…Not very pleasant. We were very worried at first. We had planned this holiday in advance and what happened frightened us. But then we talked to the travel agent and he calmed us down."
We can see that Sharm still has tourists from various countries, some of whom went ahead with their trips in spite of the plane crash, and who seem determined to stay in spite of their governments' security warnings.
A German visitor said: "We've been here for four or five days and we don't see anything that makes us afraid, so we are totally relaxed. Everyone is nice here. I don't see any terrorism here."
An Italian visitor was equally unfazed: "We have been coming to Sharm el-Sheik for more than 20 years. Nothing like this has ever happened. The weather is very good, and we're going to keep on coming. We Italians will always come here."
Terrorist bombers in 2005 killed scores of visitors in Sharm, Egyptians and foreigners. The Arab Spring further harmed security. Last year, Egypt received ten million tourists, in 2000, 15 million.
An Egyptian tourist defended its efforts: "Sharm will be always safe, and for many years a lot of people have been trying to take down Sharm for small incidents and accidents that, as you know, can happen everywhere in the world. But when it comes to Egypt, everything becomes bigger and a disaster, and everything becomes terrible. From what you see here our country is safe, and we will always be safe, and no one will ever try under any circumstances to put our country down."
Tourism accounts for about 12% of Egypt's GDP, and contributes significantly to its foreign currency reserves.
Our correspondent Mohammed Shaikhibrahim underscored: "The impact on Egyptian tourism, which had already been struggling, is serious, and this major income earner for Egypt's economy is being overtaken by this crisis. But meanwhile, several tourists we talked to here have described some countries' decision to evacuate the place as 'exaggerated.'"