Madrid to appeal Catalan road to independence from Spain
Comments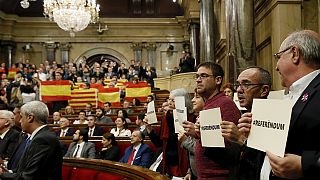 Madrid says it will file an appeal with the Constitutional Court following the Catalan parliament's vote in favour of initiating proceedings for independence from Spain.
Politicians, led by regional President Artur Mas, voted 72 to 63 in favour of a nine-point road map for complete sovereignty.
Cat's out of the bag: Catalan parliament votes to break with Spain — https://t.co/c5y8GxjECd#Catalunapic.twitter.com/5CmfH5tzwD

— POLITICO Europe (@POLITICOEurope) November 9, 2015
Speaking ahead of the vote, Together For Yes MP, Raul Romeva, gave his support for the plan:
"I have the responsibility of defending the motion of resolution, with which we solemnly begin building a new state, a Catalan state," he said.
Not everyone in parliament was in agreement with the secessionists' plan, which would see a Catalan republic established within just over 18 months.
"I beg you to think about the responsibility on your shoulders when supporting a motion of resolution that, far from solving the problems with Spain and giving room for negotiation, actually makes them worse, closing the door to negotiation," said Socialist MP, Miquel Iceta.
If Catalonia continues down the road of sovereignty, Madrid can decide to take away the region's pre-existing autonomy.
Spain's Prime Minister Mariano Rajoy said the appeal would ensure the independence declaration has "no consequences."
"We, the Spanish government, will apply the rule of law to its fullest extent and democracy to its fullest extent. The appeal will be our first step and I'd like it to be the last," Rajoy announced following the vote.
In September, 2015, the Spanish government increased the powers of the Court to enable the quick suspension of leaders who disobey its orders.
However, the document voted on in the Catalan parliament (November 9) specifies the independence process "will not depend on the decisions of Spanish institutions, most particularly the Constitutional Court."