Catalonia carves road map for independence from Spain
Comments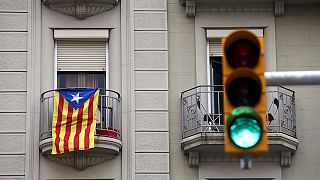 Secessionist parties in Catalonia have wasted no time following the reconvening of the regional parliament.
The Junts pel Si bloc and leftist CUP declared the beginning of the process for independence from Spain with a nine-point road map they hope to pass in the Catalan assembly.
Declaration on the start of #Catalonia's transition to independence. By @JanneRiitakorpihttps://t.co/Kkr0rJdLYDpic.twitter.com/MtWXUGsGHu

— This is Catalonia (@ThIsCatalonia) October 27, 2015
It will be debated until November 9. If approved, basic laws for founding an independent state will be decided on within 30 days, with a view to establishing a Catalan republic within 18 months.
Madrid reacts
Reacting to the statement a day after announcing the dissolution of parliament ahead of a December general election, Spain's incumbent Prime Minister Mariano Rajoy once more reiterated his opposition to the idea of an independent Catalonia.
"This initiative can only qualified as an act of provocation, which ignores the law," he said. "They know the law is not on their side.The government that I chair guarantees, and will continue to guarantee, that they will not reach any of their objectives."
'Loss of legitimacy'
But independentests appear to pay little attention to the objections coming from Madrid.
The document submitted to the Catalan assembly also states the independence process "will not depend on the decisions of Spanish institutions, most particularly the Constitutional Court."
It labelled the Court a body which has "lost its legitimacy."
What does Spain stand to lose?
Catalonia is Spain's richest region and accounts for almost a fifth of the country's economic output.
The state model introduced in Spain in 1978 with the constitution consolidated democracy in Spain and established the current system of autonomous regions, after almost 40 years of dictatorship.
Catalonia's status in the European Union would also be in question. Separation from Spain would mean separation from the EU. The new country would then have to go through the lengthy process of reapplying for membership and acceptance would not be guaranteed.
More important than football?
La Liga fans might disagree… Let's not forget, Spain's national sport is football.
FC Barcelona, currently in second place on goal difference in La Liga, could end up in the same position as Scotland's Celtic FC. Forced out of La Liga and into a new Catalonia version, Barca could end up playing in a league where they won every match without being challenged.
What's more, their TV revenue would likely plummet, meaning they would not be able to afford to buy or keep top players, or perform at the level they do currently.
Miguel Cardenal, the President of the Spanish Sports Council (CSD) issued the warning:
"Clubs' finances are decided by their TV revenues. In an independent Catalonia of eight million people, you could be a team based around a youth system like Ajax, Celtic, Standard [Liege], etc… and at most reach the last 16 or quarter-finals of the Champions League, for example."
He added: "It seems a joke to me to be thinking about where the teams will play if independence happens, with all that is happening in this country. There are things more important than football."
While La Liga President Javier Tebas tweeted: "If Spain breaks, La Liga breaks."