Catalan MPs vote 72-63 in favour of declaration to split from Spain
Comments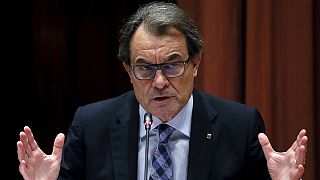 The Catalan parliament has backed a declaration initiating the first step towards independence from Spain.
Politicians, led by regional President Artur Mas, voted 72 to 63 in favour of a nine-point road map for complete autonomy.
The document voted on specifies the independence process "will not depend on the decisions of Spanish institutions, most particularly the Constitutional Court."
In September the Spanish government increased the powers of the Court to enable the quick suspension of leaders who disobey its orders.
Spain's Prime Minister Mariano Rajoy says his government would file an appeal with the Constitutional Court. He told a news conference this would ensure the independence declaration has "no consequences."
The secessionist Junts pel Si bloc and
CUP are leading the push, which will see the basic laws for founding a sovereign state decided on within the next 30 days.
Independentests will then seek to establish a Catalan republic within 18 months.