Croatia faces lengthy coalition talks after narrow win by HDZ
Comments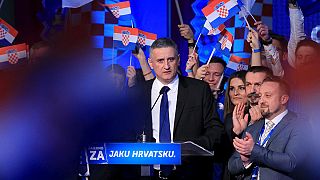 Croatia's conservative opposition has claimed victory in the country's first election since it joined the European Union in 2013.
Preliminary results indicate a narrow victory for the Croatian Democratic Union (HDZ)winning 61 seats in the 151-seat parliament.
It means coalition talks are set to follow
HDZ leader Tomislav Karamarko said: "This victory puts us in position to take responsibility for leading the country, a country which is in a difficult state."
The ruling centre-left Social Democratic Party and allies are set to take 53 seats. With such a narrow margin premier Zoran Milanovic appeared hopeful of participating in a coalition.
"We cannot carry on alone, this election has shown that. I am calling on those who want reforms – but smart, levelled and intelligent reforms that would lead Croatia to where it actually belongs, among the beauties of Europe – to join us in the capacity of equal partners."
The election had been driven by economic concerns and the migration crisis which has seen thousands of refugees pass through Croatia since mid-September.
The result looks set to follow a landmark victory by opposition conservatives in Poland last month.