EU-Iran relations at 'key stage' says Schulz
Comments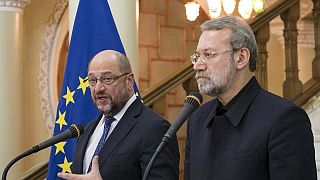 The president of the European Parliament said relations between the EU and Iran are beginning a new chapter. Martin Schulz was meeting with key Iranian officials in Tehran at the invitation of the country's parliament.
They talked about what he described as "terrorism in Syria" and the resulting refugee crisis in Europe.
"I hope that we can open complete new chapters but there is a long list of other questions we raised: Syria, stability in the region, Daesh, the so-called Islamic State, the situation in Afghanistan, the fight against drugs trafficking, we discussed about human rights differences, capital punishment and all these open questions, but there is a new chance for a very open-minded dialogue," said Schulz.
"It was a good negotiation about improving ties between Iran and Europe in economic fields," said Ali Larijani, the Iranian Parliament President: "We also had a constructive talk about the most important regional matters, terrorism, and the crisis."
Iran is the main regional support of Syrian president Bashar al-Assad's regime. It supports airstrikes carried out by Russia against armed groups hostile to Assad.