British tourists stranded in Sharm el-Sheikh start returning to UK
Comments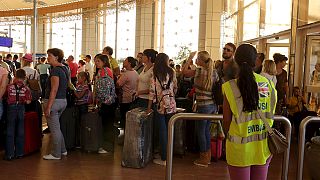 Around 1,500 British tourists, who had been delayed in Sharm-el Sheikh for days after flights were cancelled following last Saturday's Russian passenger jet crash, returned home Friday.
The UK had around 20,000 tourists at the Egyptian Red Sea resort, and had been planning to fly many of them home on Friday with hand luggage only, due to security concerns.
But Egypt reduced the amount of planned flights from 29 to eight – saying the airport could not handle more.
UK Ambassador to Egypt John Casson said: "Since the beginning our objective has been to get British people home safely, as quickly as possible, and today eight flights have left Sharm el-Sheikh with around 1,500 people on board.
"What we're dealing with is big in scale, it's logistically very demanding – we've had to work around the clock with the Egyptians, with the airlines, and that's why we're appealing to the airlines not to bring people to the airport until they're sure there is a flight ready for them to get on."