Turkey: PKK announces end of ceasefire
Comments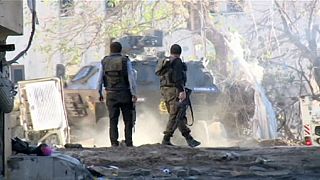 The Kurdistan Workers' Party, the PKK, said on Thursday it was calling off a month-long ceasefire.
The announcement came a day after Turkey's president Recep Tayyip Erdogan vowed to "liquidate" all PKK fighters.
Turkey's ruling AK Party won back its parliamentary majority in Sunday's election.
"The unilateral halt to hostilities has come to an end with the AK Party's war policy and the latest attacks,"the PKK said in a statement carried by the Firat news agency, which is close to the militant group.
The PKK declared the truce on 10 October, ahead of the election – a move dismissed by the Turkish government as an electoral tactic.
Twenty people were killed in clashes with the military in the mainly Kurdish southeast on Thursday, bringing this week's death toll to more than 40.
More than 40,000 people have been killed in the insurgency since it began in 1984.