Turkey detains 20 ISIL suspects in Antalya ahead of G20 summit
Comments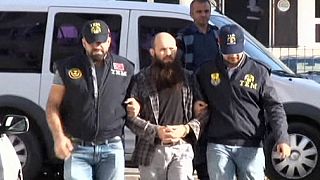 At least 20 people suspected of links with the so-called Islamic State were arrested in Turkey on Friday, in a
region due to host a major gathering of world leaders in a week's time.
ISIL-related materials are also said to have been seized in raids in the southwestern province of Antalya, where Barack Obama and Vladimir Putin are among those due to attend the G20 summit.
Two of those detained are reportedly Russian.
20 #ISIL suspects detained in Antalya ahead of #G20 summit https://t.co/xurCCy4DV1pic.twitter.com/FG5Y8XJEQf

— Hurriyet Daily News (@HDNER) 6 Novembre 2015
Turkey is imposing tight security ahead of the Nov.15-16 summit. It will be held in a beach resort away from the centre of Antalya city, with some 11,000 police officers on duty to assure security.
@G20Turkey2015 launched a global campaign to convey its key messages to the world focusing on women, youth and SMEs. pic.twitter.com/qTXurToodY

— G20 Turkey (@G20Turkey2015) 31 Octobre 2015
Turkish authorities have blamed ISIL for deadly attacks including last month's double suicide bombing of a pro-Kurdish rally in Ankara which killed more than 100 people.
Earlier this week, Turkey said it had arrested nine suspected ISIL members believed to have been preparing a suicide blast in Istanbul.