Obama nixes KeystoneXL saying pipeline "not in national interest"
Comments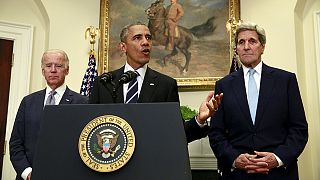 President Barack Obama has trampled over the interests of some very powerful groups by rejecting the Keystone XL pipeline extension project.
However environmentalists were overjoyed at the news and said it was time to change American energy policy completely.
"This morning, Secretary Kerry informed me that after extensive public outreach and consultation with other cabinet agencies, the State Department has decided that the Keystone XL pipeline would not serve the national interests of the United States. I agree with that decision," said Barack Obama.
Keystone XL would have taken Canadian tar sands oil, the dirtiest to extract and use, south to Texan refineries, Stopping the pipeline may halt tar sands production, and removes the risk of transit accidents though several US states. Environmentalists also say building Keystone would have been a backward step just when so many nations are taking the sustainable energy route.
The project's supporters say it would have helped make America more energy-independent, brought business to US refiners, and created jobs over the lifetime of the construction project.