And also... 'Sexist' passports; tea, not rape; 'Independent' candidate gets one vote...
Comments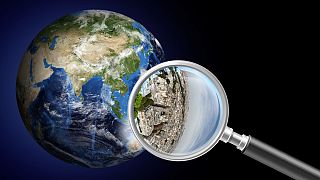 Every Friday journalists from euronews' various language teams choose a selection of stories from Europe and beyond, which did not necessarily reach the international headlines.
UK: New British passport 'full of inaccuracies'
Lovers of London who have received the latest version of the British passport claim it is "littered with inaccuracies."
It is already causing a stir due to only featuring two women among nine so-called champions of creativity. The Fawcett Society accused the UK Passport Office of "airbrushing women out of history."
And now Londoners say the travel document, dubbed by the UK government as the "most secure in the world," appears to have a highly inaccurate Tube map inside. Some stations are reportedly not in the correct location, while others are not included at all, suggesting the map is out of date.
UK: A very British sexual consent campaign
"Consent, it's as simple as tea," claims the slogan of the #Consentiseverything campaign.
Thames Valley Police has launched the unusual, but very British, drive to promote the importance of gaining sexual consent.
It has put together a video, which simplifies the concept by using tea as an analogy for sex.
"Just imagine instead of initiating sex, you're making them a cup of tea…"
---
USA

: Amazon materialises

The online store Amazon has opened a bookshop in Seattle. It describes the move as a "physical extension" of its business and will stock the most popular books on its online store.

Customers will also be able to browse and test Amazon's devices, such as the Kindle and Fire TV.
Los mundos #BrandOffOn se diluyen. Abren tienda física de Amazon Books en Seatle https://t.co/MO8cwO6SCIpic.twitter.com/yaVZsfgsnj

— Emiliano Perez A. (@EPAdesign) noviembre 3, 2015
---
Turkey: A (very) Independent candidate
An Independent candidate in Turkey's snap election ended up only gaining one vote from his local polling station, despite turning out to cast his ballot with his wife! Awkward…
Eşiyle birlikte oy kullandığı sandıktan ona bir oy çıktı! https://t.co/QkA1fnSp5Dpic.twitter.com/LkRvrkFeTe

— Haberturk (@Haberturk) noviembre 2, 2015
---
Greece: Red sky goes viral
Red sky at night, Athens' delight… On Tuesday (November 3) social media was abuzz with images of Athens and a particularly red sky at sunset. We liked it, and thought we'd share it with you…
Today, the Athenians posted something special… #Sunset#in_Athens#Greece#travel#Athens#athensauthenticmarathonpic.twitter.com/1G29WMqAwl

— In Athens (@in_athens) Νοέμβριος 3, 2015
can't take my eyes off you Hot Athenian Sky | #Athens#greecepic.twitter.com/6KHCeNSuiV

— Anna Psaroudakis (@ResFly_C) Νοέμβριος 3, 2015
To συμπαν ειχε κεφια #athens#sunsetpic.twitter.com/0bNmbOX7E4

— PanagiotisLazariotis (@Panaghiotes) Νοέμβριος 3, 2015
Εντυπωσιακές φωτογραφίες: το εξωτικό ηλιοβασίλεμα που «τρέλανε» τους Αθηναίους! https://t.co/JGyGdUDaYtpic.twitter.com/D8P2cA0uaS

— star.gr (@wwwstargr) Νοέμβριος 3, 2015
---
Sources
---
---
---
---
---