Valbuena and Benzema left out of French squad
Comments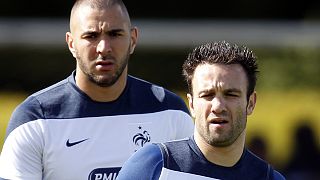 French striker Matthieu Valbuena has been left out of the international squad for his country's two matches against Germany and England later this month.
There is no place either for Karim Benzema who is officially on the injured list at his club Real Madrid.
National coach Didier Deschamps refused to be drawn on the long-term implications with the two players embroiled in the alleged sex-tape blackmail scandal.
"As for Matthieu Valbuena, even if he is not at his best at the moment with Olympique Lyonais, you'll understand that currently he is not in the best psychological condition because of this affair so I took the decision to give him a little break from the two very important matches which are coming up," the coach told reporters.
While all French players have signed a charter pledging good behaviour off the pitch coach Didier Deschamps said "sporting qualities" were his priority when he picked his squad.
Valbuena played in Lyon's 2-0 home defeat by Zenit St Petersburg on Wednesday night.