Metrojet 'grounds A321' fleet, UK advises against air travel to Sharm
Comments
By
Euronews
with
British government, Reuters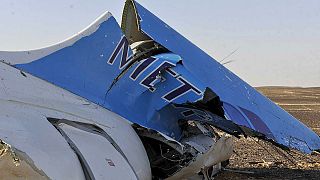 In the wake of last week's Metrojet crash in Sinai, the Russian carrier is reportedly grounding its A321 aircraft while additional checks are carried out.
The Russian Federal Transport Agency announced the decision, which will affect four aircraft in the Metrojet fleet.
In the meantime, Russia continues to operate flights to and from Sharm el-Sheikh. The UK has changed its travel advice to urge against all but essential travel by air to the Egyptian resort.
Flights between Sharm and the UK and Ireland have been suspended, stranding at least 20,000 passengers.
The decision to ground flights followed a statement by the British government concluding "there is a significant possibility the crash was caused by an explosive device on board the aircraft."
British Foreign Secretary, Philip Hammond added:
"We will have arrangements in place to bring people home safely at the end of their holidays. There is no need for people to leave ahead of schedule. We will not allow any UK-bound aircraft to take off from Sharm el-Sheikh until we are absolutely certain that it is safe for it to do so."
He said that a return to normal flight patterns will depend on expert analysis of the Egyptian airport, but it could take days or even weeks.
Egypt's economy relies heavily on tourism and its foreign minister has called the UK response premature, claiming to have taken exceptional measures to enhance security at Sharm el-Sheikh airport.