UK and US intelligence sources say Russian airliner was downed by a bomb
Comments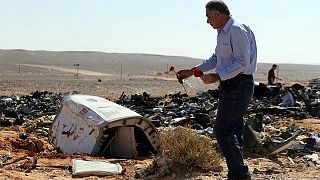 There is growing evidence that a bomb was the likely cause of last week's Russian airliner crash in Sinai which killed 224 people.
Although not mentioning any group, Britain's Foreign Secretary Philip Hammond cited the possibility after a meeting of the UK government's emergency Cobra committee.
"We have concluded that there is a significant possibility that the crash was caused by an explosive device on board the aircraft."
Both US and UK intelligence sources point to the Islamist militant group ISIL or affiliated extremists who may have planted the bomb before the plane took off from Sharm el-Sheikh airport on route for St Petersburg.
Sinai Province – a group linked to ISIL claims to have brought down the plane "in response to Russian air strikes that killed hundreds of Muslims on Syrian land."
Britain's Foreign Secretary went on to say:
"We have concluded that we have to change our travel advice and we are advising against all but essential travel by air through Sharm el-Sheikh airport. That means that there will be no U.K. passenger flights out to Sharm el-Sheikh from now,.
The UK's reaction comes as data is still being analysed by crash investigators. The news was not welcomed by British tourists.
"I've been coming to Egypt since 1981, I was here very soon after the Hatshepsut problem in '97 (when militants attacked tourists), and I will always keep coming back," said tourist Julie Wattenberg,
"I think that it has been a really bad decision, because I think that nowadays, this could happen anywhere in the world," added Helen Collins.
The Guardian Sharm el-Sheikh shutdown affects 20000 British tourists The Guardian The suspension of flights in and… https://t.co/qvhshLwWYD

— Shanna (@ShannaIDK) November 4, 2015
Egypt's economy relies heavily on tourism and its foreign minister has called the UK response premature, claiming to have taken exceptional measures to enhance security at Sharm el-Sheikh airport.
Russian experts have also said its is too early to say what downed the plane although they appear to have ruled out the aircraft having been struck from outside.
" There are two versions now under consideration: something stowed inside the plane and a technical fault. But the airplane could not just break apart in the air – there should be some action. A rocket is unlikely as there are no signs of that," a Russian official said.