Russian plane crash: 'Bomb' theory gains ground
Comments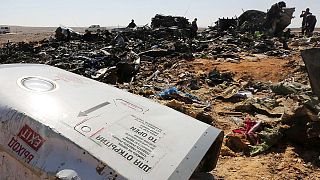 US intelligence points to a bomb planted by the so-called Islamic State or an affiliate bringing down the Russian passenger plane that crashed over Egypt, according to an unnamed official quoted in American media reports.
While that view is as yet unofficial Britain earlier formally raised the possibility of a bomb.
Ministers gathered for a meeting of the emergency Cobra committee, chaired by Prime Minister David Cameron.
"We cannot categorically say why the Russian jet crashed, but we have become concerned that the plane may well have been brought down as a result of an explosive device," said UK Transport Secretary Patrick McLoughlin.
ISIL's Egyptian affiliate has reiterated its claim of responsibility for Saturday's crash which killed all 224 people on board.
As a precaution Britain has halted flights from Egypt's Sharm-al Sheik airport – the starting point for the doomed flight. Ireland has told its airlines not to fly to or from the area.