Saint Petersburg mourns as ISIL re-tweets responsibility for Sinai crash
Comments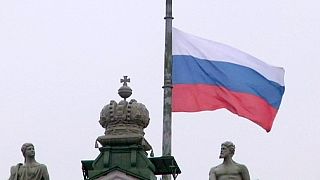 The Russian flag is flying at half mast over Saint Petersburg in tribute to the 224 people who lost their lives in the Metrojet crash over the Sinai peninsula.
As Russia mourns, ISIL has once more taken to Twitter to claim the blame for the downing of the plane. But the jihadists say it is not their responsibility to prove how the alleged attack was carried out.
Officials have warned against drawing premature conclusions over the cause of the crash.
Egyptian President Abdel Fattah el-Sisi has announced heightened security at Sharm el-Sheikh airport – the starting point of Saturday's fatal flight.
Russian authorities, meanwhile, have extended the search area and introduced drones to assist in the investigation.