Co-pilot of crashed Russian plane 'had technical concerns'
Comments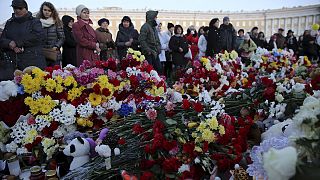 As aviation experts try to piece together the last minutes of a Russian airliner before it crashed in Egypt's Sinai Peninsular killing all 224 people on board, questions are being asked as to the flight worthiness of the aircraft .
Some have pointed to a 2001 incident, when the Airbus 321's tail section struck the tarmac on landing causing a possible structural weakness.
Natalya Trukhacheva, wife of co-pilot says her husband had his concerns:
" He (her husband Sergey) complained before the flight that the technical condition of the aircraft left much to be desired (…) I believe he would have made every effort to try to control the plane. If there was any chance, he would have landed it."
Detailed flight data released by FlightRadar24, a flight tracking website, showed the plane sharply gaining altitude and dropping in its last moments, a pattern some experts have said would be consistent with losing the tail.
But investigators are still waiting for the plane's flight data recorders to finish being analysed. The fact that the pilot made no distress call implies whatever happened was sudden. It's also been suggested that due to the scattering of the plane's wreckage over a wide area it may have broken up mid-air and at a high altitude.
Meanwhile relatives of those who died have been sent to a mortuary in Russia for the painful task of identifying loved ones .
The remains of the last 28 passengers have now arrived.
As a shocked nation continues to grieve a helpline offering psychological support for families and friends has already received around 3,000 calls.