Ex- Brazilian football star José Maria Marin pleads not guilty to bribery
Comments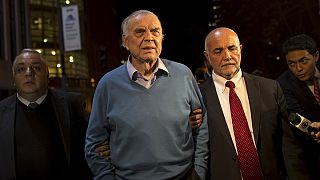 Former Brazilian football chief José Maria Marin has pleaded not guilty to bribery charges after being extradited to the US from Switzerland .
He was among seven officials from world football's governing body, FIFA, who were arrested in Switzerland in May.
He is accused of taking back handers worth millions of dollars from sports marketing companies in connection with the Copa America and Copa do Brasil.
If convicted, he could face up to 20 years in prison.
Marin, 83, who headed Brazil's preparations to host the 2014 World Cup while president of the Brazilian Football Confederation, had bail set at $15 million and a judge ordered him placed under house arrest.