At least 16 dead and dozens trapped in Pakistan factory collapse
Comments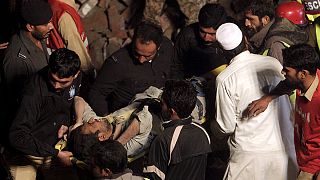 At least 16 people were killed on Wednesday and up to 150 trapped under the rubble when a factory collapsed in an industrial area of Lahore in eastern Pakistan.
Formerly several stories high, no part of the building remained standing after the disaster, and hundreds of rescue workers including soldiers have been picking through piles of concrete and bricks to find survivors.
Dozens have been pulled out alive. Many more remain trapped and with heavy machinery being used, search teams were striving to ensure that no-one is hurt further in the rescue operation.
At the scene, senior local government official Mohammad Usman said that at least 75 injured people had been rescued so far.
It is not known what caused the collapse of the factory where plastic bags were manufactured.
But reports suggest the building was still under construction and may have suffered damage in last week's earthquake that hit Afghanistan and Pakistan, leaving some 390 people dead.
Thousands left homeless in #Afganistan#Pakistan border as death toll rises to 390 https://t.co/zl7ktm8JGMpic.twitter.com/aD0Ezz3GgO

— dwnews (@dwnews) 28 Octobre 2015
Pakistan has suffered a number of industrial disasters. Its construction sector suffers from poor oversight and developers frequently flout building codes.
In September 2012, 289 people burned to death in a fire at a garment factory in the southern city of Karachi.
On the same day, a fire at a shoe factory in Lahore killed 25.