Arsenal hammered in Champions League rout against Bayern Munich
Comments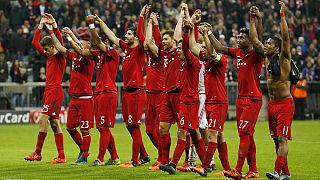 In the Champions League matches a late Roma penalty ended a brilliant comeback by Bayer Leverkusen in Rome after the visitors levelled at two all.
Barcelona are bossing Group E with two matches to go after their comfortable three nil win over Bate Borisov Neymar bagged a brace in the match. Bayer Leverkusen face a difficult final two matches if the German outfit are to knock Roma out of second place.
Bayern Munich swept aside Arsenal in an emphatic performance in Group F. Lewandowski opened the scoring in the 5-1 rout after just 10 minutes. It was his fourth in four matches.
The result still doesn't guarantee Bayern Munich qualification but it is only a matter of time with the heat now on Arsene Wenger. Maximum points a must in the final two games and it could come down to the number of goals they win by in their final match against Olympiakos.
Beleagured at the Bridge? An own goal in their clash with Dynamo gave Chelsea the lead, the visitors levelled before Willian scored seven minutes from time.
The special one may just have got a very special win at the Bridge as Chelsea take over that critical second spot in Group G. Jose Mournho's former charges Porto maintain their standing at the top after a 3-1 victory at Maccabi Tel Aviv.
Lyon were crushed by Zenit St Petersburg with Atem Dyzuba getting both goals in the 2-0 win in Group H. Both sides went down to ten men in the match.
That won't have dampened the Russian's celebration as they became the only side on the night to qualify. Valencia are in the driving seat in the race for that second spot over Gent.