Ahmed Chalabi, key architect of Saddam's downfall, dies
Comments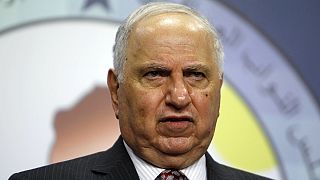 The Iraqi politician who is said to have played a key role in persuading the US to topple Saddam Hussein in 2003 has died.
Ahmed Chalabi was reportedly found in bed at his home in Baghdad.
He is thought to have had a heart attack.
Prominent Iraqi politician who pushed for US invasion reportedly dead https://t.co/qSawCbde9rpic.twitter.com/PQGk2e8Vym

— Business Insider (@businessinsider) November 3, 2015
US involvement in Iraq
Chalabi is widely considered as the man who helped nudge the US into invading Iraq in 2003.
He claimed to have information about Iraqi weapons of mass destruction which was later discredited.
Iraqi politician who pressed for US invasion dies of heart attack https://t.co/ir5KjBNCpd

— The Guardian (@guardian) November 3, 2015
U.S. Marine watches the statue of Saddam Hussein fall in Firdos Square, Baghdad, Iraq on April 9, 2003. #USMCpic.twitter.com/LW3c99M0Os

— War Related (@WarRelated) October 21, 2015
Chalabi returned to Iraq from exile after the fall of Saddam Hussein.
His name was floated as a potential prime minister.
But experts say disagreement with his former US allies damaged his chances of becoming Iraqi leader.
What they are saying
Always a controversial figure, news of Ahmed Chalabi's death has dividied commentators.
Ahmed Chalabi, one of the key instigators of the war in Iraq, has died, according to the Iraqi parliament, afp</a> reports</p>&mdash; Luke Baker (LukeReuters) November 3, 2015
BREAKING: #Iraq warmonger Ahmad Chalabi dies – https://t.co/qhbjqxSuKZ

— Al Arabiya English (@AlArabiya_Eng) November 3, 2015
CIA's favorite Iraqi, Ahmed Chalabi – man who claimed Saddam had WMD – died of heart attack in Baghdad. #Iraq >> https://t.co/mzsBYtGoeI

— Jon Williams (@WilliamsJon) November 3, 2015